We welcome wholesale tea inquiries for all our teas and special products.
Wholesale Tea Pricing
To receive wholesale pricing for our tea cans, please fill out our online application and one of our representatives will contact you.
Our tea products are perfect for a variety of retailers including Gourmet Stores, Gift Shops, Boutiques, Museums, Resorts, Spas, and Universities.
Create Your Custom Wholesale Tea Design
Choose a pre-designed template from our existing online selections or give us a call so we may customize your tea can and give it its own special look. You can email us your art/logo to: info@TheTeaCanCompany.com
Wholesale Tea Products
Resell our established tea can designs or have us create your own private label.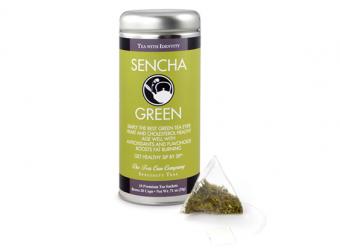 TALL TIN — Our most popular product! Containing 12 tea sachets, each can be brewed 2-3 times. Measures 2.5" x 6". Each case contains 24 Tall Tins. Use our branding or your own private label. WSALE 001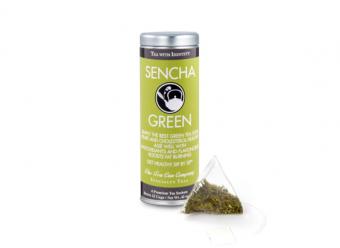 SKINNY TINS — Introducing our new Skinny Tin can size which contains 6 tea sachets. Measures 1.75" x 5.25". Good for party/table favors. Very adorable! Each case contains 24 Skinny Tins. Use our branding or your own private label. WSALE 024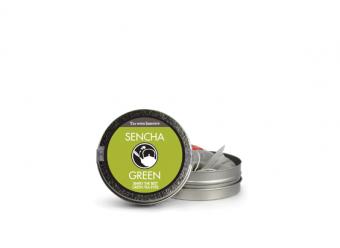 MINI TINS — A more reasonably priced product. Perfect for party/tabel favors, boutiques, gift stores and samples. Each tin contains 4 tea sachets. Measures 3.25" x 1". Each case contains 24 Mini Tins. Use our branding or your own private label. WSALE 002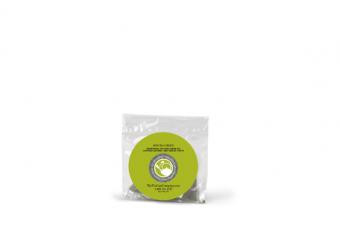 CAFE SINGLES — These personalized individual tea cafe singles are perfect for presenting your guests with a healthy thank you that coordinates with your event or theme. Use our branding or your own private label. WSALE 022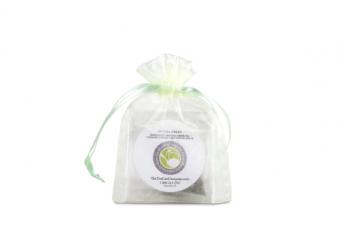 ORGANZA BAGS — Each organza bag has 1 individually wrapped tea sachet with optional hangtag or business card attached. These adorable favor bags look great on any table at your event. Use our branding or your own private label. WSALE 020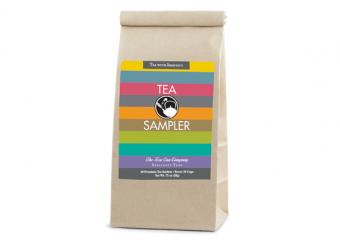 SAMPLER BAGS — Our Sampler Bags contain 12 individually wrapped tea sachets in a gift bag. Choose from our Traditional, Floral, Candy, Happy Hour and Organic lines of tea and herbal blends. Use our branding or your own private label. WSALE 018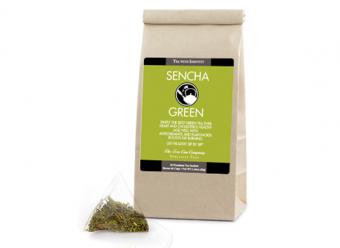 REFILL BAGS — Love your tea can and just want to reuse the tin? We offer refill bags that contain 20 sachets of one flavor, so that you can reuse your tin and not buy a new one. Use our branding or your own private label. WSALE 037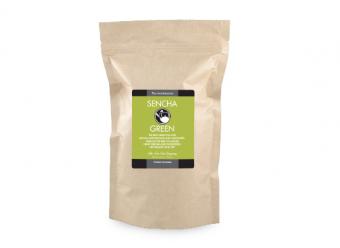 SERVING BAG — We offer bags that contain 50 sachets of one flavor for serving tea. Use our branding or your own private label. WSALE 031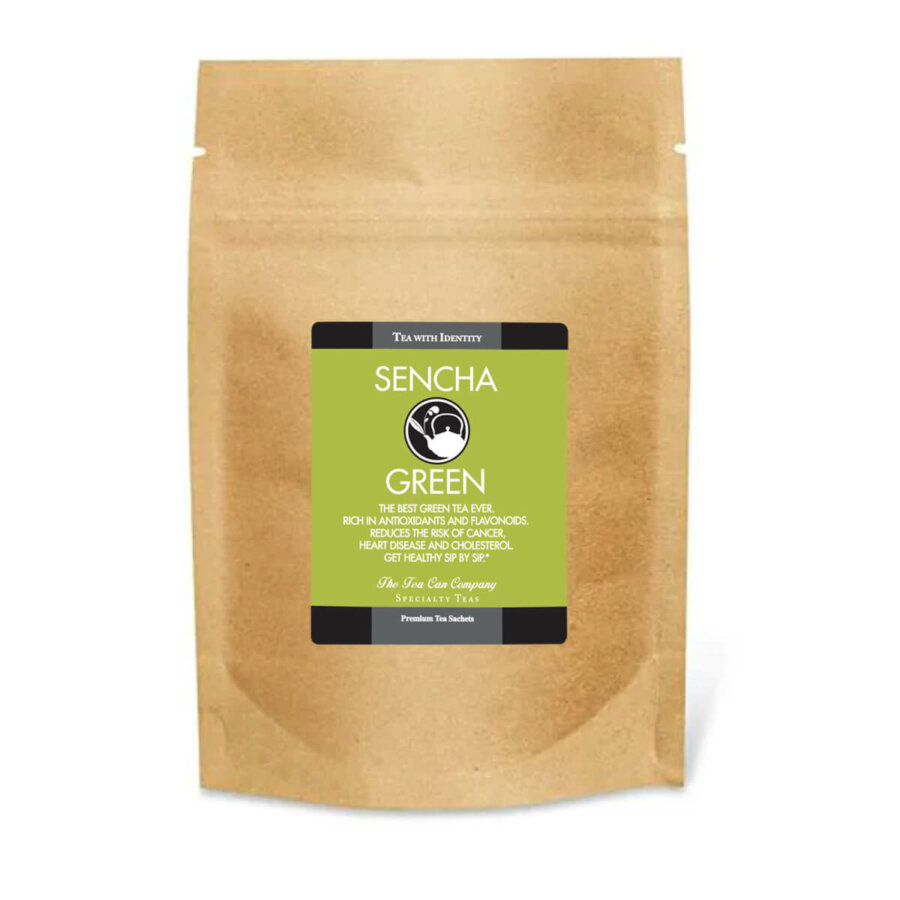 STAND-UP POUCHES — Choose from Black, Pearl White or Kraft Color with a choice of one or two labels. These sturdy, lined pouches have a sturdy zip lock built in. Use our branding or your own private label.  WSALE 020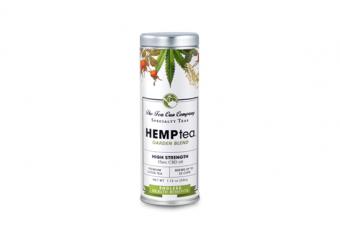 HEMPTEA™  — THC-Free Imported Cannabinoid-Infused (CBD) Loose Tea. Pharmaceutical-grade, 99% pure cannabidiol. Available in 7 flavors in High Strength (12MG CBD oil per serving) and Mild Strength (4.5MG CBD oil per serving). 6 skinny tins per case. Use our branding or your own private label. WSALE 045 & 046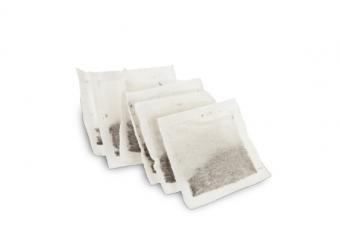 SIMPLY TEA™ — A lower priced (but still delicious) option to our silk sachets using traditional tea bags with specially selected flavors. 24 tins per case. Available in a tall tin and a mini tin. Use our branding or your own private label. WSALE 027 & 028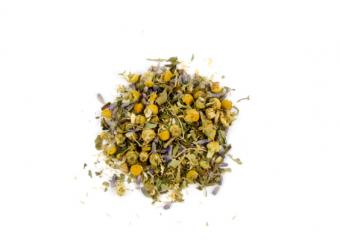 LOOSE TEA — We offer our loose tea in skinny tins and in serving bags in order to meet any of your loose tea needs. Available in select flavors only. Use our branding or your own private label. WSALE 032 & 042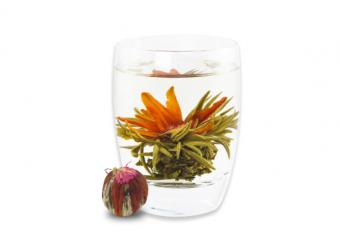 BLOOMING TEA — Our Blooming Teas come in 4 great green tea blends packaged in a Mini Tin with three Blooming Tea Balls. Use our branding or your own private label. WSALE 035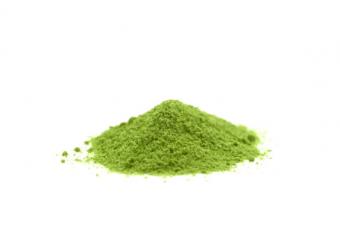 JAPANESE MATCHA — We have recently added Japanese Matcha to our line up. Currently now offered with 2 oz in a skinny tin. Use our branding or your own private label. WSALE 038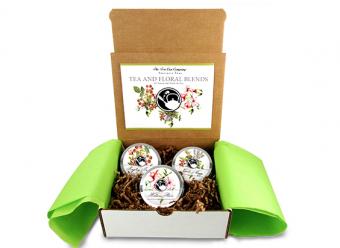 3 MINI TINS STANDARD GIFT BOX — This gift box is elegantly decorated and compatible for shipping. Each mini tin holds 4 tea sachets. Use our branding or your own private label. WSALE 016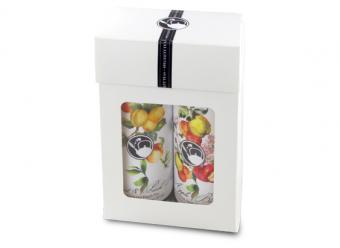 PAPER GIFT BOX WITH 2 TALL TINS — New Paper Gift Box that contains 2 Tall Tins. Measures 5" x 7.5" x 3″. Boxes come in White and Kraft colors. 12 Units Minimum Order. Use our branding or your own private label. WSALE 048
PAPER GIFT BOX WITH 2 SKINNY TINS — New Paper Gift Box that contains 2 Skinny Tins. Measures 4" x 6.25" x 2″. Boxes come in White and Kraft colors. 12 Units Minimum Order. Use our branding or your own private label. WSALE 047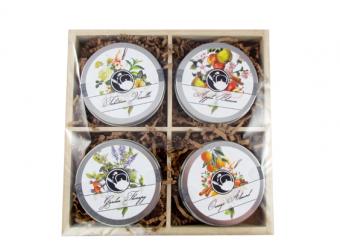 WOODEN GIFT BOX WITH 4 MINI TINS — New Wooden Gift Box that contains 4 Mini Tins. Measures 8" x 8" x 1.25″. Wrapped in cellophane and padded with krinkle. 12 Units Minimum Order. Use our branding or your own private label. WSALE 049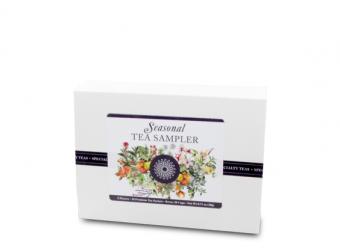 SAMPLER TEA BOX — New Paper Gift Box that contains 10 individually wrapped singles with 5 different flavors. Measures 6.125" x 4.5" x 1.5″. 12 Units Minimum Order. Use our branding or your own private label. WSALE 050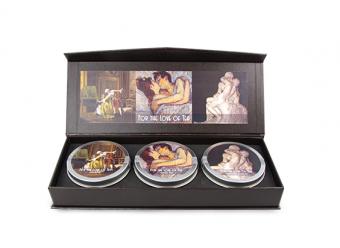 3 MINI TIN LUXURY GIFT BOX — This charming gift box is perfect for any occasion. Each mini tin contains 4 tea sachets. Use our branding or your own private label. WSALE 013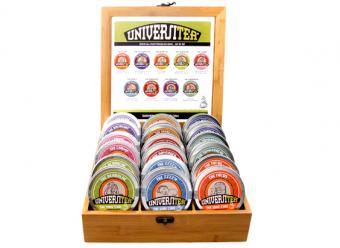 9 SLOT DISPLAY BOX/MINI'S — Holds 18 mini tins (2 each of 9 select flavors). Choose from our standard online designs or let us customize a special package just for you.* A refill box of 36 mini tins is also available. Use our branding or your own private label. WSALE 005 & 006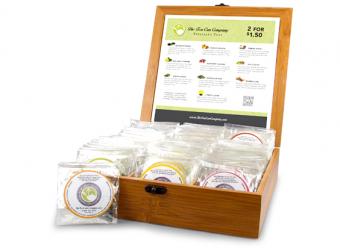 9 SLOT DISPLAY BOX/SINGLES — Holds 45 individually wrapped singles (5 each of 9 flavors). A refill box with 90 singles is also available.  WSALE 009 & 010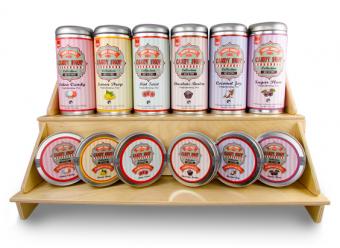 16″ 2 TIER COUNTER RACK — This 2 tier counter rack is perfect for displaying 12 tall tins or a variety of tall and mini tins. *Tins not included. WSALE D02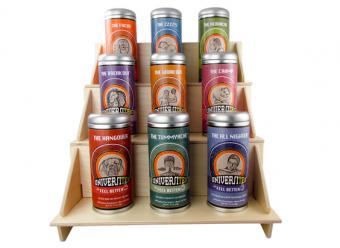 12″ 3 TIER COUNTER RACK — This 2 tier counter rack is perfect for displaying up to 12 tall tins or a variety of tall and mini tins. *Tins not included.  WSALE D01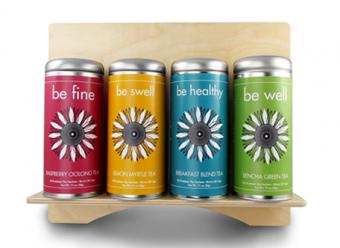 12″ FLAT BACK DISPLAY — Our 12″ Flat Back Display is great for displaying a series of 4 tall tins. The back of the shelf contains an area above the tins for you customization to meet your design/display needs. WSALE D03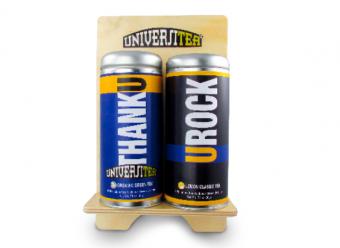 6″ FLAT BACK DISPLAY — Our 6″ Flat Back Display is great for displaying 2 tall tins. The back of the shelf contains an area above the tins for you customization to meet your design/display needs. WSALE D04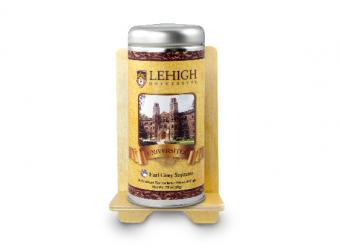 4″ FLAT BACK DISPLAY — This shelf is perfect for showcasing an individual tall tin of tea in a display. *Tin not included. WSALE D05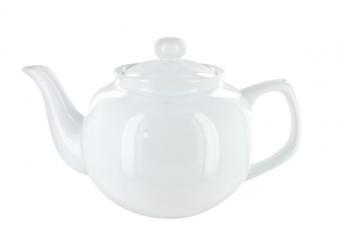 LARGE TEAPOT — This 32 oz porcelain tea pot is great for brewing 6 cups of tea and would only require 2-3 tea bags. WSALE A01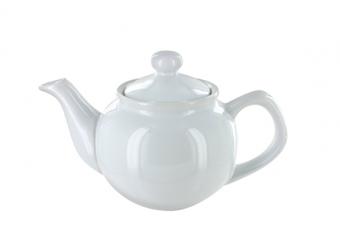 SMALL TEAPOT — All you need to brew this 16 oz teapot is 1-2 teabags depending on your taste. WSALE A02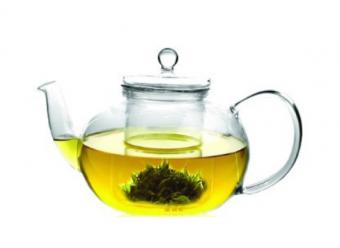 CLEAR TEAPOT — Our 32 oz clear teapot has an insert that is used for steeping loose tea. This tea pot is also perfect for steeping blooming tea, so you can see the tea ball bloom. WSALE A03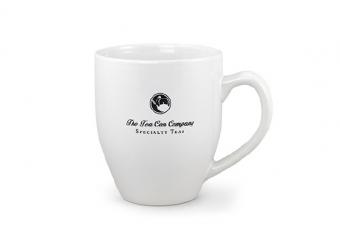 MUG — Perfect white tea mug with The Tea Can Company Logo.WSALE A04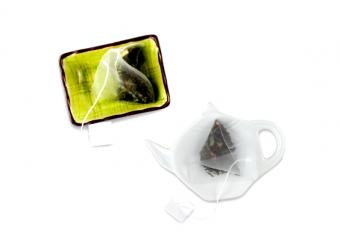 ARTISANAL & TEAPOT SACHET DISH — Include in store display so that customers can smell and see the loose tea inside. Also great for resting your tea bag between cups. WSALE A05 & A06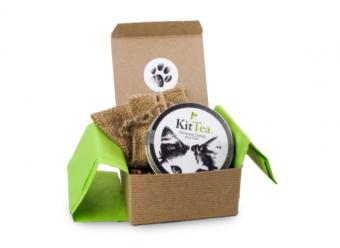 KITTEA — For our cat lovers, we offer mini tins filled with 12 grams of Catnip packaged perfectly in a gift box. Use our branding or your own private label. WSALE 040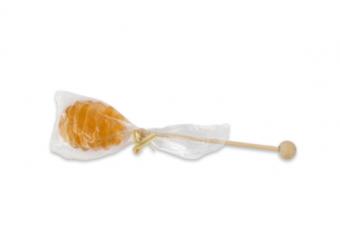 HONEY LOLLIPOP STIRRER — Premium honey for use as an added sweetener to your favorite cup of tea! A fun gift item that does well in gift baskets. WSALE A07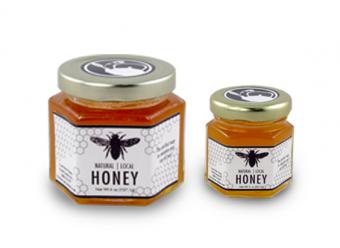 LOCAL RAW HONEY — Our all natural, local raw honey comes in a 2oz and 6oz hexagon shape jar with a fully customizable label. WSALE A08 & 09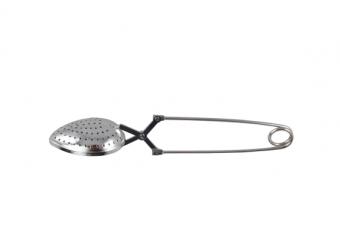 TEA INFUSER SPOON — For use when brewing Loose Tea. Insert about a teaspoon of loose tea into the spoon and stir in hot water to brew. Tea Infuser Spoon opens and closes when the tongs are squeezed.WSALE A10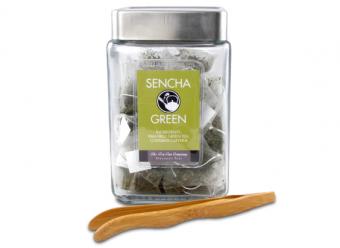 GLASS CANISTER WITH TONGS AND 30 SACHETS — Perfect for serving stations in restaurants & gourmet shops. Glass Canisters come with 30 sachets, a customized sign, and bamboo tongs for serving. We also offer a 30 Sachet refill. Use our branding or your own private label. WSALE A11 & A12
Apply To Be A Wholesale Tea Buyer
Wholesale Tea Questions
If you have any questions, please
 

contact us

 

and one of our representatives will be able to assist you.

Business Hours: Monday – Friday
(9:00 am – 5:00 pm EST)
Phone: 215-766-2746
Email: info@TheTeaCanCompany.com